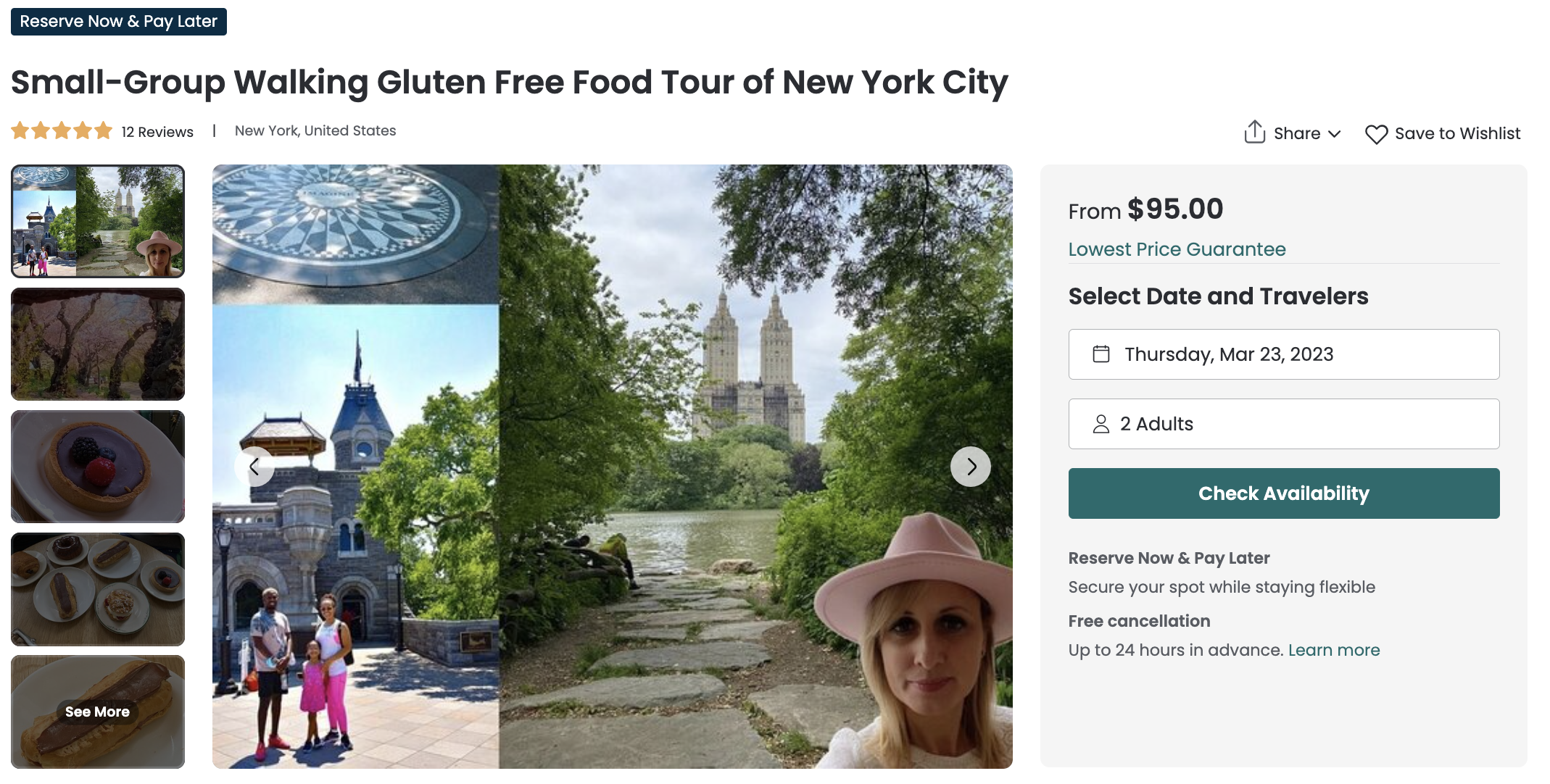 Join me on this mouth watering food tour of Manhattan, where you will sample scrumptious food while enjoying the sites of Central Park. If you are a food enthusiast or living with celiac ~ coeliac disease, a gluten-free diet is 100% essential. Enjoy real food minus gluten additives that have become the norm in food preparation and production.
This tour is a must do as we take you to a selection of establishments that offer delicious gluten-free food. On our walk I will also point out notable landmark sites throughout Central Park. At the end of each tour I will direct you to other haven's that you must visit during your stay for a yummy gluten free travel experience.
What To Expect
Itinerary
Stop At:   
Noglu, 100% gluten free patisserie. Here you will meet your tour guide and you will be offered coffee or tea and a savory food. Depending on what food is available on the day your choices will be a gluten free Croissant, Scone, Vegan Cake, Chocolate Eclair, Muffin, Brownie or a Cream puff with a tea or coffee. Duration: 25 minutes Admission Ticket Free
Stop At:   Alice in Wonderland Statue We make our way to Conservatory Water or better know as Central Park Model Boat Pond. We will pass Hans Christian Anderson bronze portrayal, reading from The Ugly Duckling with its main character at its feet. As we known it was in fact a swan and we will also pass by the famous Alice In Wonderland Tea Party held by the Mad Hatter sculpture. Donated in 1959 by George Delacorte in memory of his wife who often read Lewis Carroll's Alice's Adventures in Wonderland to their children. This sculpture has many little visitors daily; it is a must see. Delacorte also donated the musical clock in the Central Park Zoo. Duration: 30 minutes Admission Ticket Free
Pass By:   The Loeb As we make our way to Bethesda Terrace we pass by the historic Loeb Boathouse. This is the lake's launch point for rowboats. Calvert Vaux, Central Park's designer incorporated Victorian touches. Stop At:   Bethesda Fountain Bethesda Terrace, the most recognized area of Central Park. We can take in the Minton tile ceiling which opens up to the Bethesda Fountain. The Angel of Waters sculpture stands 26 feet high, created by Emma Stebbins, one of the first public art commissioned from a woman. It marks the 1842 Croton Aqueduct that brought fresh water from Westchester County into NYC. This was very important in ending the Cholera Epidemic. The Lily in her hand represents purity and the four figures at the base signify peace, health, purity and temperance. The Angel is modeled after stage actress Charlotte Cushman. We also stop by the Central Park lake and admire the turtles who have made this lake their home. Duration: 40 minutes Admission Ticket Free
Stop At:   Strawberry Fields, John Lennon Memorial Strawberry Fields was created to memorialize the Beatles songwriter and legend John Lennon whose life was sadly taken on the 8th of December 1980 from gunshot wounds from Mark David Chapman as he walked through the archway of his building. He was only 40 years old and had become a notable Peace Activist. His ashes are scattered here in Central Park so for many Beatles fans this is sacred ground. The "Image" mosaic feature was gifted by the city of Naples, Italy. Take a moment to enjoy this peaceful memorial amongst the American Elm trees. Duration: 15 minutes Admission Ticket Free
Stop At:   Central Park As we make our way out of Strawberry Fields we will pass the Cherry Hill Fountain. This fountain was originally created as a drinking fountain for horses. Today many birds take advantage of the flowing water and use it as their own bird bath, they also drink from one of the six cups on the fountain's main stem. Also a popular photo destination. Duration: 7 minutes Admission Ticket Free
Stop At:   Bow Bridge We will navigate our way over The Bow Bridge; this iconic bridge in Central Park has been the location of many marriage proposals and you may be already be familiar with its fame as it is also one of the most photographed bridges in Central Park. Also appearing in many movies. Duration: 15 minutes Admission Ticket Free
Stop At:   Belvedere Castle Belvedere Castle built on Vista Rock sitting 130 feet high, it is the second highest point in Central Park. In present day the main tower is our source of wind speed for weather reporting and just south of the castle the current weather station, an automated surface observing system (ASOS) is located. This is where New York collects meteorological data from this beautiful point so make sure to check the weather report on your visit. At the base of Belvedere Castle lies Turtle Pond, named for its inhabitants. Duration: 15 minutes Admission Ticket Free
Stop At:   Shakespeare Garden Shakespeare Garden is a beautiful four-acre space, planted with trees and flowers that were mentioned in William Shakespeares plays and poems. We make our way out of Central Park admiring the Swedish cottage, now home to Marionette Theatre, sadly still closed due to covid but it has delighted children since 1947. Duration: 15 minutes Admission Ticket Free
Stop At:   474 Columbus Ave We end our tour for a well deserved lunch at Thyme and Tonic and Modern Bread and Bagel Both 100% gluten free. This meal is not included in the cost of the tour.