Formally BabyCakes, Erin McKenna's Bakery is free from Gluten, Refined Sugar, Wheat Free, Soy Free, Dairy Free, Egg Free it is also Vegan and Kosher. 
Erin McKenna's opened their first location in NYC on the Lower East Side in 2005 and now have locations in LA and Orlando.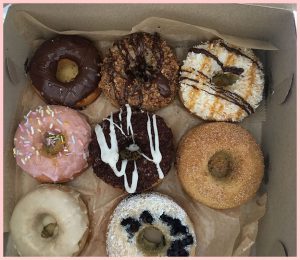 I have picked up special deliveries on many occasions, the image above was for my niece and nephew visiting from Ireland last year.  Both Celiac and both very excited. Erin Mckenna's Bakery delivering across the United States is a game changer. 
Check out their website below to see what is available for shipping.